Self-Guided Substance Use and PTSD Therapy for Jails and Prisons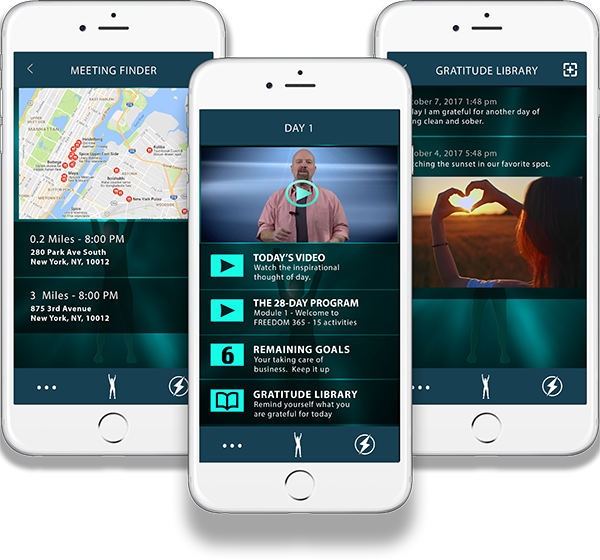 Drug misuse and dependence in offending populations present significant challenges for public health and justice systems.
The vast majority of people incarcerated in jails, prisons, and detention centers suffer from drug or alcohol addiction, often caused by unaddressed trauma.
Freedom 365 offers an ultra-secure jail or prison issue version of our Online Drug & Alcohol Counseling Alternative, providing this underserved population low cost, self-guided access to Substance Use and PTSD therapy and recovery resources.
Substance Use and the Corrections System
Roughly 75% people arrested have drugs in their system.
65% of inmates fit the criteria for substance abuse disorder.
Up tp 60% of those incarcerated suffer PTSD.
The incarcerated are 7-times more likely to suffer substance use disorder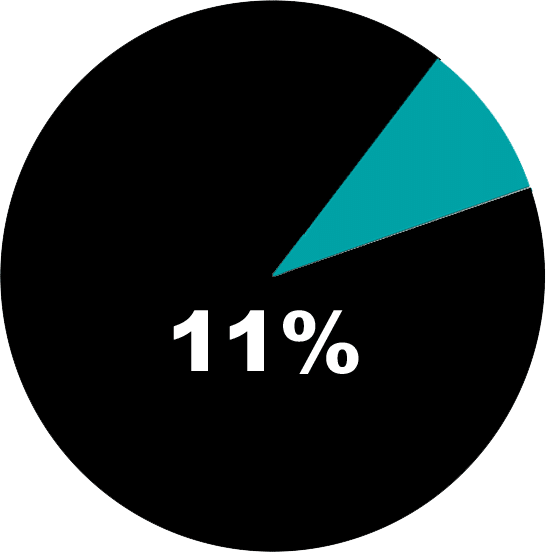 What's Worse...
Only A Fraction Are Receiving Any Recovery Help
According to the National Drug Institute, ONLY 11% of those incarcerated will ever actually receive any substance abuse help in their lifetime
After release from prison, many ex-prisoners return to risky alcohol and drug use.  Hazardous drug use after release increases risk of reoffending soon after release, increasing recidivism rates.
High rates of psychiatric comorbidity among prisoners with PTSD, and links to aggressive behavior, provide further support for the need for trauma-informed recovery approaches in prisons.
Freedom 365 reduces both substance use and PTSD rates, while at the same time reducing recidivism.
Substance Use in Corrections is Costing Tax Payers
It costs between $36,000.00 and $56.000.00 a year to keep someone locked up. The vast majority of people incarcerated in jails, prisons, and detention centers suffer from drug or alcohol addiction. Statistics prove that between 75% to 90 % of jailed inmates were high when they committed their offense. Unfortunately, the prison system is not equipped to meet the rehabilitation needs of substance users. Unless therapy or counseling is addressed while incarcerated, the prisoner is ill equipped to re-enter society. VRS Freedom 365 provides a self-guided substance abuse and PTSD therapy program for jail and prison inmates.
Addiction and Trauma counseling for inmates is a necessity.
Addressing these issues benefits not just the inmate themselves, but the prison system and the population at large.  Substance users have a recidivism rate of 68% within 3 years following release. Solving this issue would save the US taxpayers millions. Beyond the monetary cost is the societal toll addiction and incarceration has on families and social services.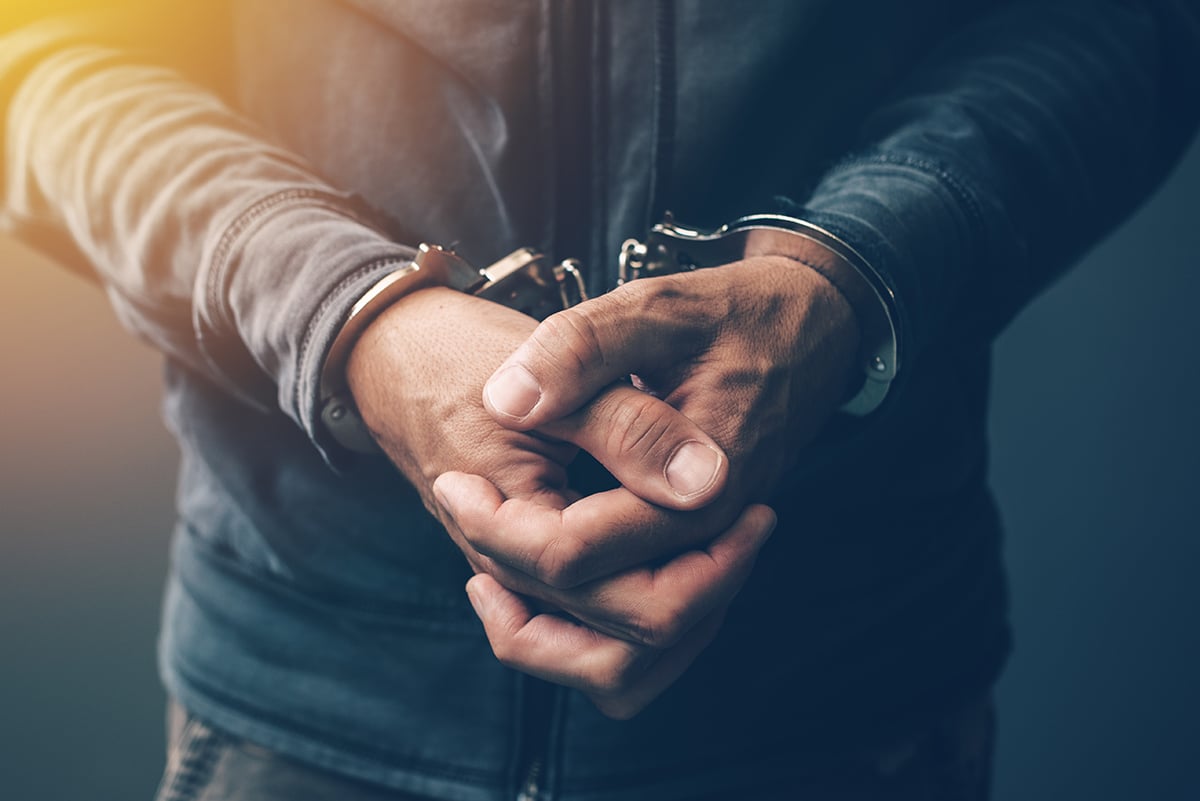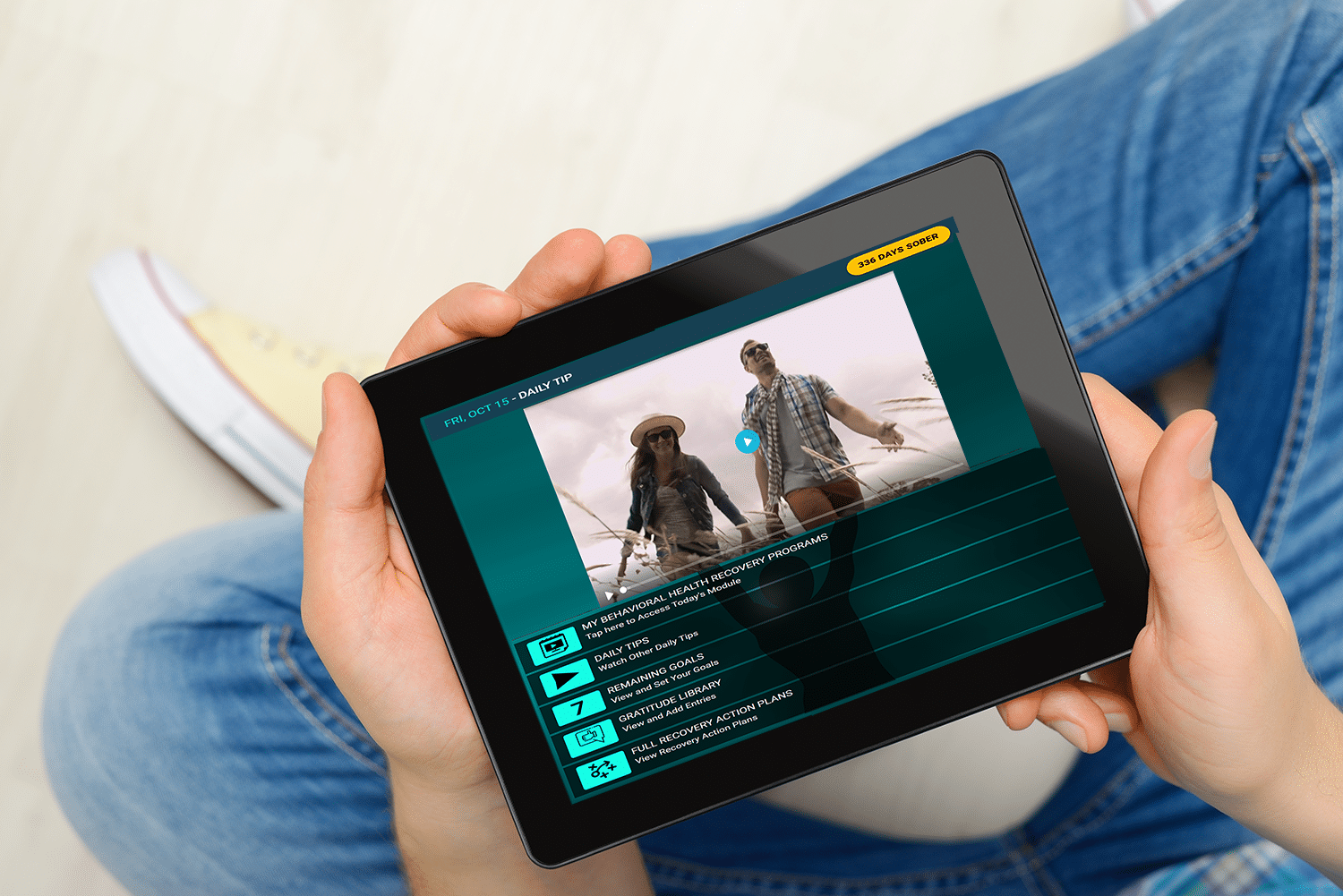 Treat Substance Use and Reduce Recidivism
You know addiction counseling for inmates is important, but you might not have the means or budget to integrate it into your current programs or upgrade an existing one.
That's where we come in – the VRS Freedom 365 app's self-guided substance abuse and PTSD therapy and recovery system is a simple, yet effective solution to helping individuals recover from their addiction by redirecting self-destructive behaviors so the energy can be re-focused on healthy, life-improving behaviors. Our ultra secure prison issue software can bee accessed anywhere, by anyone, on any device, making it a perfect solution for prisons.
Freedom 365 has relationships with most major commissary and corrections tablet companies. making integration of Freedom 365 into your system as easy as signing up!
Freedom 365 is an Award Winning Solution
With advice from recovery author and recovery center CEO Brian McAlister, videos, in-app messaging, daily tips, an extensive support network, and more, our ground-breaking online substance abuse recovery system is the best online addiction therapy tool available.
We don't call it Freedom 365 for nothing – the Virtual Recovery System gives users a full year of recovery guidance and support with unique videos every day to keep the users progressing on their rewarding journey.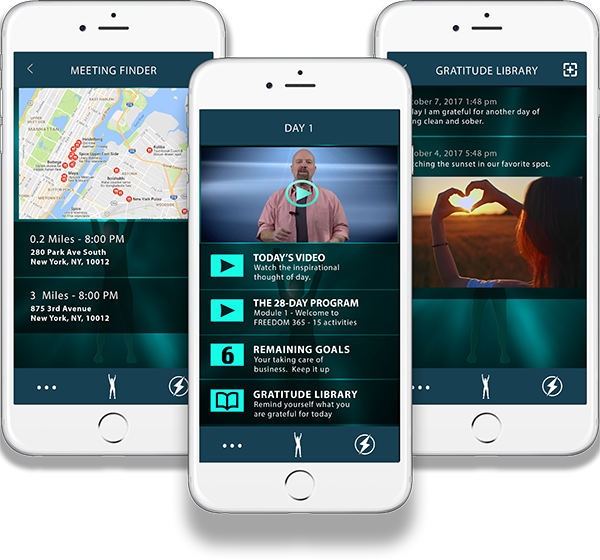 Why Are So Few Inmates Getting The Help They Need?
IT'S COSTLY
A typical 28 day in-patient or out-patient recovery program ranges from $20,000-$100,000
RARELY WORKS
On average 80% relapse within the first 30 days and 90% within the first 6 months
TIME CONSUMING
Most recovery requires months of working with highly-qualified counselors for a long and expensive period of time
STIGMATIZING
Admitting to a problem has the potential to compromise one's standing amongst family, peers and campus staff
DIFFICULT TO MEASURE RESULTS
There is currently no national standard of measuring success
VRS Freedom 365 addresses all these potential hurdles by providing an affordable platform for alternatives to online addiction counseling courses for universities.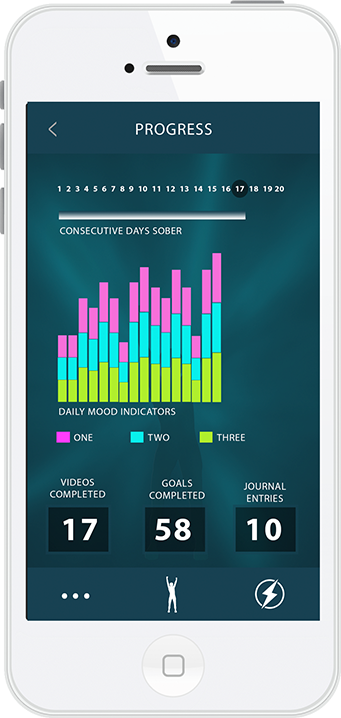 Our Self-Guided Addiction Counseling Courses for Corrections  Provide a Cost Effective Solution
First of its kind, 365-day Virtual Recovery System™ – an alternative to online addiction counseling courses for universities are one-click away
Patent pending early warning screening tool
State-of-the-art, interactive video educational series and integrated web- based application
Completely automated and fully customizable
Highly measurable, data-driven results
Incorporating "smart," self improving technology
Offering the exclusive  Full Recovery Relapse Prevention Program™
An ultra-secure jail and prison issued self-guided substance abuse and PTSD therapy app specifically designed for correctional facilities
Freedom 365™ is HIPAA and FERPA compliant, encrypted and secure.
Contact Us Today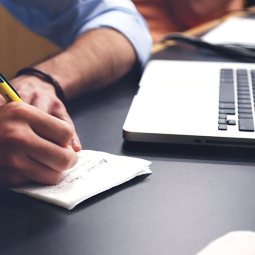 Field Tested Screening Tool
FDA approved comprehensive mental health assessment and early warning screening tool
Ability to digitally send to all currently enrolled inmates and staff
Completely automated, providing private and secure results
Delivers immediate results and recommends Freedom 365 Virtual Recovery System™, if applicable
Customizable Administrator notification of screening results
Track Completion and Success Rates
Customizable admin dashboard to manage entire system
Track program participation and completion
Pull custom usage reports for your institution
Distribute early-warning assessments and manage licenses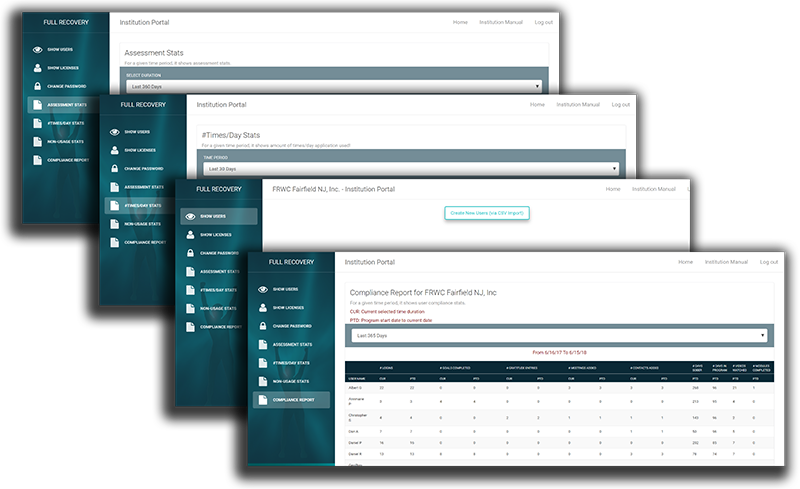 Freedom 365 is Your Correctional Facility's
Best Solution for Self-Guided
Substance Abuse and PTSD Therapy
Automated Early Warning Screening Tool
Low Cost per Inmate per Month
Implement Immediately on any Prison Issue Device
Completed on Inmates' Schedule
Provides Metrics & Tracks Completion
Lowers Institutional Costs of Corrections Facility